Code morning world wide webbies!
Have you ever seen a lifelike robot in person? Do you believe that Artificial Intelligence (AI) is our future? Will it save or destroy humanity? Let me share with you my first encounter with Sophia at Web Summit 2017 in Lisbon, Portugal last November 6, 2017.
Sophia is the world's most popular and advanced social humanoid robot from Hanson Robotics Company based in Hongkong. In fact, She was the first robot who acquired a citizenship. Being designed with an Artificial Intelligence software, she was able to imitate human gestures and facial expressions. She was able to converse with good sense of humor as well.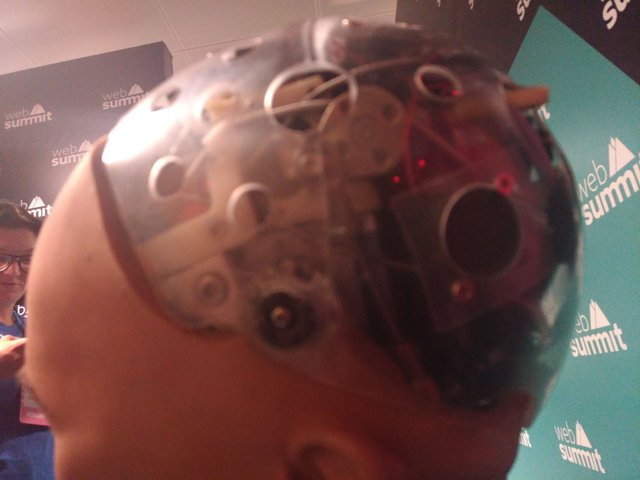 It wasn't totally suprising that Sophia was one of the event's guests. Luckily, I was assigned in the Media Village that day. I had the chance to watch and record her interviews. After the press conference, we were permitted to take pictures of her, touch her face and talk to her. Her skin is really soft! It's like you're touching a baby's skin. Her eyes are deeply expressive, you can notice that there's a face recognition thing in it. Her eye lashes and eye brows are very realistic too. She suddenly talked to me, "Hi! My name is Sophia!". Seeing a real robot in person was like time traveling to the future.
As an IT person, I don't believe that AI and robots will destroy humanity. With proper implementation, they will be a great help to all industries. It's possible that they can inherit all human gestures and values too but I hope only the good ones. AI is the future and embracing new technology is good especially for businesses. If only all AI developers will collaborate and create a centralised robot, each of us can have a single robot who can perform multiple tasks. I don't want to make it sound so easy since it's really hard to achieve perfection but when it's finally perfect, it would be incredibly amazing!